BUSINESS MODEL INNOVATION
Business Model assessment, Design & Implementation Understanding and Innovating your Business Model Is Crucial

What actually is a Business Model?
The business model of a company is a simplified representation of its business logic. It describes what company offers its customers, how it reaches them and relates to them, through which resources, activities and partners it achieves this and finally, how it earns money. The business model is usually distinguished from the business process model and the organization model.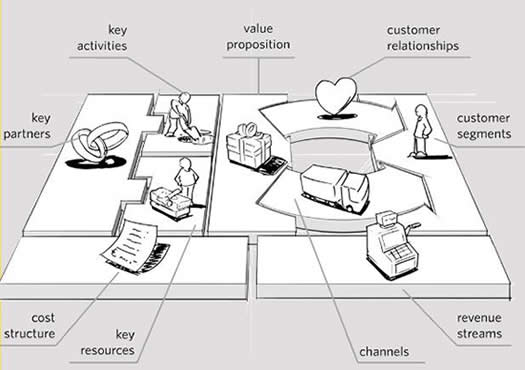 In addition we incorporate newly releases "The Business Model Generation" book which Karllestone Capital co-contributed and created & the "Blue Ocean Strategy" methodology in our conceptual and Strategic process review of existing and new corporate business models for assesment, analysis, engagement and questioning of those models. We help start-ups, entrepreneurs, small business and corporates with improving and designing (new) business models. Many organizations having a sound and proper bausiness model in the past, see that their current model is not working anymore. It does not generate enough value (revenue, profit) as a result of changes in the environment. Credit crisis, 180-degrees change in the customer behavior, the role of the Internet and (free) access to information has made traditional models losing their value considerably. New models are a must have! What are business models of the future?
The Building Blocks of a Business Model
A business model can be described by looking at a set of nine building blocks. To get a good picture of our business model we should describe our:
Customer segments: Our groups of customers with distinct characteristics.
Value proposition: The bundles of products and services that satisfy our customer segments' needs. Value Proposition and Understanding the customer perspective are key components of the business model design.
Distribution channels: The channels through which we communicate with our customers and through which we offer our value propositions.
Customer relationships: The types of relationships we entertain with each customer segment.
Revenue streams: The streams through which we earn our revenues from our customers for value creating and customer facing activities.
Key resources: The key resources on which our business model is built.
Key activities: The most important activities performed to implement our business model.
Partner network: The partners and suppliers we work with.
Cost structure: The costs we incur to run our business model.